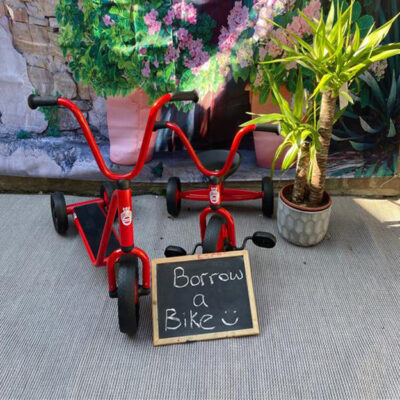 Being a community nursery, at Just Imagine Colchester we are always looking for ways to help support our families and promote engagement in the local community. We are also aware that a majority of families live in flats, with no access to a garden.
This knowledge began our 'Borrow a Bike' scheme. Initially we purchased one scooter and one trike. After sharing this with our families, the children started to take the bikes home with the idea to promote both physical exercise, getting out into the community and also being in charge of looking after the bike and keeping it safe.
Just Imagine Colchester were contacted about the scheme by Community Playthings, a provider of children's toys and furniture offering to donate 2 bikes after seeing us on social media. We were overwhelmed and so grateful with the offer, and of course accepted. Community Playthhings delivered not two but three beautiful bikes and we are so pleased to be able to share these with our families.
We now have a fleet of five bikes, with one being a scooter and one being a ride on without pedals, to suit all ages and abilities. The bikes have been to the park, the beach, and in our families' gardens. They have been used to travel to and from nursery to friends' houses and also as a chair to watch tv on in the house! It is safe to say they have made quite a difference so far and long may it continue.
Published: July 2022